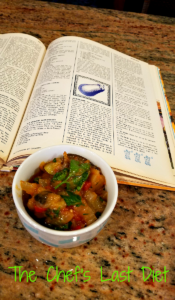 Summer is ratatouille season, and though ratatouille doesn't begin with E, eggplant does. My letter E options were limited, a mere 58 pages. There was an egg cookery section, English cookery and a large section on Entertaining. There were also a few recipes for eel and elderberry, that I ruled out, and a small section of eggplant recipes.
The best ratatouille I've ever had (not surprisingly) was in France at someone's home. One of my traveling companions had spent a summer living with a family near Alsace, and we stopped for a few days to stay with them. They had a sizable vegetable garden, and each evening would go out to pick ingredients for dinner. That ratatouille is one of those recipes I've been trying unsuccessfully to replicate for many years.
As I've made each recipe from the Woman's Day Encyclopedia of Cookery I've made a few changes, mostly of technique. This time though I must say I based my recipe only loosely on theirs. For reasons I can't fathom they didn't include zucchini which is in traditional French ratatouille (and featured prominently in that dish I enjoyed so many summers ago). Nor was there any seasoning.
Eggplants are part of the nightshade family, and have been cultivated for thousands of years, originating in Asia, and getting traded along the Silk Road to the Middle wast, and eventually to Southern Europe. Ratatouille is similar to Italian caponata (one of my favorite eggplant dishes), and is food both hot and cold. There are comparable dishes from Turkey, Iran, Majorca and Greece, some add a touch of sweet in the form of currants, or heat in the form of chilies, but all are chopped and cooked slowly to marry the flavors in an obligatory sea of olive oil.
If you haven't done much cooking with eggplant, be warned, eggplant absorbs oil like a sponge. You will use an astonishing amount of oil, and either decide you're OK with that, or try tossing the eggplant with (a little) less oil and roasting it. Someone once advised me to choose male eggplants, which can be identified at the blossom end of the fruit. If it is oblong the eggplant is female, round and you have a male. The story is that male eggplants have fewer seeds and are less bitter. This time of year you should have no trouble finding gorgeous eggplants.
Eggplant Ratatouille Provencal

Print recipe
Ingredients
1 Large eggplant (chopped into 1)
3/4 cups olive oil
1 Large onion (cut in half, and sliced)
2 cloves garlic (crushed)
2 Medium zucchini (cut into quarters lengthwise, then into 1/2: pieces)
2 cans plum tomatoes (16 oz)
1 jar pimientos, drained (4 oz)
1 tablespoon capers
2 tablespoons chopped fresh parsley
2 teaspoons kosher salt
several grinds of fresh pepepr
Directions
Step 1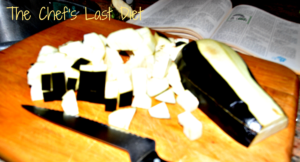 Heat oil in a large, deep, heavy bottomed pan
Add eggplant and stir to coat all eggplant with oil
Cook over medium heat for 6-7 minutes, stirring often

Step 2


Add onions to pan, stir well and continue to cook for another five minutes, stirring often

Step 3


Add garlic, zucchini, tomatoes, pimientos, salt and pepper, and capers, stir well
Cover and reduce heat to low, cook for ten minutes, or until all vegetables are tender
Stir in parsley