8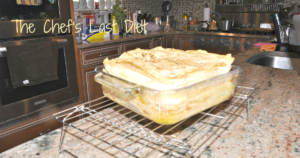 My family isn't Greek by heritage, though I would say I was raised in a house that embraced all things Grecian, from art and literature to cuisine. My mom used to read to us from D'Aulaires Book of Greek Myths, something that served me well as an art history major in college. Not only did we love going to Greek restaurants and bakeries, but we cooked the food at home too.
I've written before about a meal a friend and I made for a special occasion. And I spent countless hours folding up triangles of spanakopita and tiropita for parties, and for a friend's wedding.
A trip to Greece when I was in my late twenties remains one of the best trips of my life. So I was happy to get to the letter G in my alphabetic trip through The Woman's Day Encyclopedia of Cookery and I was happy to make something I knew would be wonderful after last week's failure.
This tiropita isn't the little triangles you get as an appetizer but is made in a square pan, and if you're new to using phyllo is a great recipe to start with. As I sat typing this my house filled with the scent of butter and cheese melting together in the oven and I couldn't wait for it to finish baking.
This recipe is difficult to mess up and I promise yours will look as beautiful as mine. The top will be golden brown, and if your phyllo tears, or breaks no one will notice.
The toughest thing about using phyllo dough is keeping it damp enough to stay supple without letting it get wet and gummy. I laid a sheet of plastic wrap on the counter (you could also use a Silpat or wax paper) unrolled the dough on the plastic, then laid a damp (but well wrung out) dish towel on top of it.
You need to work efficiently and cover it after you take each leaf of the dough. If the sheet tears you can still use it, and if you want the flaky, buttery texture phyllo pastry is known for, you need to brush butter on each layer.
Greek Tiropita

Print recipe
Ingredients
12 tablespoons unsalted butter (melted)
1/2 Package phyllo dough
8-10oz feta cheese (crumbled)
1lb small curd cottage cheese
4 Large eggs
1/2 teaspoon dried thyme
1 teaspoon dried dill
1 teaspoon kosher salt
several grinds of black pepper
Directions
Step 1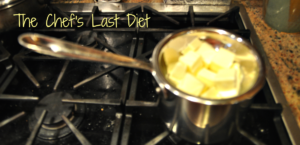 Preheat oven to 350F/325F for convection
Beat eggs, add cottage cheese, feta, herbs and seasoning
Step 2


Brush an 8" square baking dish with melted butter.
Lay one sheet of phyllo to fit into the dish, allowing the excess to hang over on side. Brush sheet with melted butter. Repeat with three more sheets.
Step 3


Put a scant cup of cheese mixture on top of dough, and spread evenly.
One by one, fold each overhanging sheet back over filling, brushing each layer with butter.

Step 4


Repeat two more times, brushing the final layer with the rest of the melted butter.
Bake for one hour and ten minutes until the top is golden brown.

Step 5
Allow to cool before cutting.
Serve hot or at room temperature.