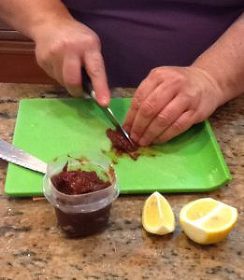 Cooking and writing are large parts of what makes me, well, me, and less cooking, less writing=less me.
Happy New Year to you, and I hope you're starting the year well. Rachel and I are sitting around in what my mom used to call our gatkes eating bagels and nova and contemplating life. We are each connected to our respective devices, but also contentedly together.
2017 was an exhausting year, on both a macro and micro level. Politics aside (and that is a YUUUGE aside) my life feels like it's no longer my own. I started a job that seemed like it would be a dream and has become a nightmare. Without going into the specifics (that would take too long) I will leave it at this: I generally work six days a week. I leave my house at 5:45 and return around 7 each night and am too tired to cook or write.
One of the perks of this job is the breaks. I work at a university and when they are closed we are closed. This means I've been off since December 22 and this doesn't even count as vacation time! I have had time. Oodles of time. I had ambitious goals for this time, and though I've managed a few, I've mainly spent my time sleeping, watching movies, eating, sleeping some more some writing, and cooking.
This is the second post I've managed this week, and I've even had time to catch up with some friends and family. I feel rested and relaxed. I feel like whining 'Do I have to go back?' The answer, at least for the moment is YES. No New Year's Resolutions to fail at, no Word of the Year, just an intention to make my life closer to what I'd like it to be. More writing, and more cooking.
Are you wondering what I've been cooking? Nothing special, and yet some great food. And I'm happy to share.:
Wishing you all the best for the coming year, and I hope we see a lot more of each other.