Can you get all of summer in a bowl? Summer is salad season, and this deluxe version was just what I needed on this swelteringly hot weekend. I had to go out to run errands both Sunday and Saturday and both days fled home to my cool house. I am dreading my electric bill, but I cannot bear the heat, and central air is one luxury I indulge in. Another splurge was the lobster tails I bought a few weeks ago from Fresh Direct when they were on sale.
I bought the tails fresh, but carefully wrapped them in plastic wrap, then in a freezer bag and popped them into the freezer. You may not be surprised to hear that I forgot about them, and last weekend in a fit of frustration at the state of my freezer I conducted a purge and label attack and there they were. My daughter (who generally exhibits excellent judgment when it comes to food) doesn't like lobster, so I put off using them another week. Lobster rolls are among my favorite summer meals, but I wanted to stretch my two lobster tails, so a salad seemed perfect.
In the spirit of the lobster roll I used a mayonnaise-based dressing. Local corn is in season and I can't get enough of it. Combined with some basil from my windowsill, and gently mixed together this was a super-simple meal. I was going to use tomatoes, but decided less was more; I wanted the lobster and corn to really shine, and didn't want the tomato flavor t overpower them. This salad would be great if you had a whole lobster and wanted to use the intact claw meat as a garnish.
The dressing, a mix of equal parts mayonnaise and sour cream is a favorite of mine that is good for most protein salads. The sour cream adds a subtle tang, and lightens the mayo. Lemon zest is the best way to get that zingy lemon flavor, and lemon juice blends into the background. Lemon zest balances and enhances the sweetness of both the corn and lobster meat. If you'd like a refresher on how to choose and prepare summer corn look here and here. (One of my pet peeves is seeing people pulling back the husks of the corn at the store).
The ratio for this recipe gives you enough lobster, but you might like more. I don't think I've ever experienced too much lobster! But for a light meal this is a nice summer meal. The addition of some crusty bread with oil or good butter would be terrific. What is your favorite way to enjoy lobster?
Lobster and Corn Salad

Print recipe
| | |
| --- | --- |
| Serves | 2 |
| Prep time | 30 minutes |
| Cook time | 8 minutes |
| Total time | 38 minutes |
Ingredients
16oz lobster tails (2- 8 oz. tails)
2 Medium ears of corn (cooked, and kernels removed)
3 leaves basil (rolled and snipped into tiny ribbons)
2 tablespoons sour cream
2 tablespoons mayonnaise
1/2 Medium lemon (zested and juiced)
pepper (4-5 ginds)
Directions
Step 1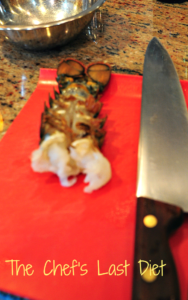 Bring 2 quarts of heavily salted water to a boil, reduce heat to a simmer and add lobster tails. Simmer on lowest heat for 7-8 minutes
Remove from water and drop into an ice bath (half ice/half water)
Step 2


In a bowl whisk together sour cream, mayonnaise, lemon juice and zest, basil and pepper to make a creamy dressing
Step 3


Add corn, and mash gently with a fork to separate kernels


Step 4
Once lobster is cool, remove from shell (snip down the length of the tail and you will easily lift out the meat)
Chop into large pieces, dry with a paper towel, and add to corn mixture
Step 5
Serve over lightly dressed greens or sliced tomatoes