Any matchmaker will tell you it takes some trial and error to get a match just right. They'll also tell you that sometimes it is an unlikely or unusual match that will surprise everyone when it works. I have never taken on matching up people but I love doing it with food. This weekend I took on another matchmaking project. Two of my favorite summer crops are peaches and corn so I thought I'd try throwing them together.
The best vehicles to combine flavors are stews, stir fries and PIE! And nothing screams summer louder than pie. Sure I love a good pecan or apple pie, but summer's bounty is meant for pie. This summer I've been enjoying the sweet white peaches I've found everywhere from the most pedestrian supermarkets to farmers' markets. And this time of year the corn keeps getting better, sweeter and cheaper. Would they, could they work together? I needed to know! An internet search showed me no results for corn and peach pie, so the challenge was on.
The first question was sweet or savory, and though corn can go either way, peaches though a great complement to savory, need a sweet application. As I imagined this pie and mentally tasted it I knew it should be a custard base. I held back the sugar in my first attempt, but the recipe here ups that. My first try was also a bit peach shy, so more peaches, and you can't have too many peaches. I used white peaches, but yellow would be fine. You could also substitute frozen corn and peaches (if it's winter).
The surprise for me was the first (under-sweetened) pie was better cold the next morning than it was when still warm from the oven. If you want to make the less sweet version (maybe you want a recipe for breakfast pie) use half the sugar and use two rather than three peaches. As I said I'm no matchmaker for people, but I think I do a nice job when it comes to culinary matters.
If you want to make your own piecrust (which of course I recommend) this is a great (and easy) recipe. If you want a store bought crust the best ones around (no hydrogenated fats) are Dufour and Immaculate Baking Company, neither of whom I have any association with other than being a fan.
Peach and Corn Custard Pie

Print recipe
| | |
| --- | --- |
| Serves | 8 |
| Prep time | 1 hour, 30 minutes |
Ingredients
1 10 pie crust
3-4 Medium peaches (skin removed)
2 Ears corn (cooked, kernels removed from cob (about 2 cups))
1/2 cup sugar
1 tablespoon instant tapioc
2 cups heavy cream
2 Large eggs
1 teaspoon vanilla
1/2 teaspoon kosher salt
Note
To skin peaches (or any other soft fruit)
Make an X with the tip of a knife in the skin.
Put peaches into boiling water for 30 seconds
Remove fruit and plunge into an ice bath
Skins should pull away easily
Directions
Step 1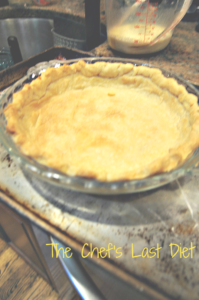 Preheat oven to 350 F
Put crust into a 10" pie pan, crimping edges to make a order to contain the filling.
Line crust with foil or parchment and cover bottom with rice, beans or pie weights and bake for 10 minutes.
Remove crust from oven, lift out foil and weights, and return the crust to the oven for another 10 minutes

Step 2


Put skinned peaches and corn kernels into a bowl, and gently mash with a potato masher. You want to rough up the peaches, not smash or puree them.
Step 3
Toss peaches and corn with tapioca, sugar and salt
Turn this mixture out into the pie shell

Step 4


Use the same bowl the filling mixture was in to mix the custard. Put in eggs, cream and vanilla and beat gently to combine
Pour over peach mixture
Step 5


Use a crust protector or a ring of foil to protect the edges of the crust, and bake for 45-55 minutes. A thin knife should come out clean. The filling may seem a little jiggly, but it will set as it cools.