Looking for a meatless Monday recipe? Well today I've got a two for one deal. I'm often surprised by which of my posts on Instagram, FB, or Twitter get the most requests for recipes please. I don't mean the most likes, but specifically asking for a recipe. Two such items from the last weeks are broccoli-cheddar soup, and slow-cooker Brussels sprouts. Oddly, neither of these dishes was particularly photogenic. The greens tend to get a bit, well, army-ish. Nonetheless this time of year I think we're all looking for new things to do to old favorites.
Brussels sprouts have made a come-back worthy of Valerie Cherish. Suddenly everywhere you look people are doing exciting things with them. I am clearly a better person than you because I have loved them even when no one cared about them. I've posted recipes for them before; pan roasted, in risotto, and the magical Brussles sprouts my friend Bonnie made. I recommend any of those, and add to the list with today's slow-cooker Brussels sprouts.
Admittedly I am still struggling with best practices for using my slow-cooker, in particular the amount of liquid; too much and you get soupy results, too little and food gets scorched. When cooking vegetables, there will always be more liquid than you (OK, I) expected, so (note to self) add less. This recipe is very simple, and uses few ingredients. The resulting BS were meltingly tender, sweet and salty. They are Asian influenced, but would pair well with any main dish. We had them with pan-seared salmon.
Though it makes perfect sense, I had no idea until Saturday that January is national Soup Month. As someone who spent years cooking for the public I wasn't surprised to find that chicken noodle is the most popular soup in the US. I have no idea where HuffPo got their data, was it based on sales of canned soups, or some general "What's your favorite soup" polling; they didn't say. Regardless, I have found almost everyone I know is quite fond of broccoli cheddar soup. The delicious-ness factor of this soup depends on the cheddar you use. I don't recommend using a cheese shoppe $29.00 a pound cheddar, but please don't use pre-grated cheddar as that won't do much more than thicken the soup. I like Cabot extra sharp cheddar it is a good eating and cooking cheese. My daughter loves it so when it's on sale I stock up.
Admittedly I am wildly profligate when it comes to broccoli, and unless I'm planning on making soup I buy broccoli crowns. For soup however I like the stems which add more flavor. If you're willing to strain your soup leave the stems in when you puree it, but if not, leave them chunky enough to fish out before you puree. As always, I use chicken stock, but veggie stock works fine, and will give you a veggier flavor.
I hope you're staying warm as we head into the coldest part of the year here in the northern hemisphere. I'll try to cram a few more soup recipes into January, but there are plenty of soup recipes already here. Some of my favorites are, in no particular order: beef barley, carrot sage, senate bean and split pea. I'm already thinking out clam chowder for next week!
Broccoli Cheddar Soup

Print recipe
| | |
| --- | --- |
| Serves | 4-6 |
| Prep time | 15 minutes |
| Cook time | 1 hour |
| Total time | 1 hour, 15 minutes |
| Meal type | Soup |
Ingredients
2 tablespoons oil
1/2 Large Spanish onion (rough chopped)
2 Medium russet potatoes (peeled and rough chopped)
6 cups stock (chicken or vegetable)
2 heads broccoli (stems hopped, florets removed)
2 tablespoons butter
3 tablespoons flour (2 for roux, 1 to mix with grated cheese)
4oz sharp cheddar cheese (grated)
2 cups milk
Directions
Step 1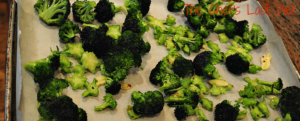 In a large soup pot heat oil lover medium high heat
Add onion and saute until translucent (don't brown)
Add stock and chopped broccoli, reserving florets for later
Step 2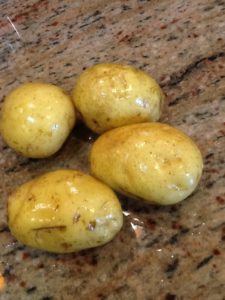 Add chopped potatoes to pot
Bring to a boil, cover pot, reduce heat to simmer and let cook for 45 minutes
Step 3
Puree with a hand blender, or using a blender.
If using a blender, puree in small batches and be very careful, the heat can cause the lid to pop off, liquid to fly out and burn you!
Strain soup
OR, use a food mill with the finest disc

Step 4
Toss the grated cheese with one TBL of flour
In a small pot melt butter over low heat
Whisk in flour and cook for 2-3 minutes
Add milk and continue whisking until sauce begins to thicken
Stir in cheese and flour mixture
Step 5
Add 2 ladles of soup to cheese sauce and stir well to combine
Add that sauce mix into soup and continue stirring until the sauce is well mixed in
Add florets and cook on low heat until they are tender, about ten minutes, stirring often to prevent the thickened soup from scorching on the bottom
Slow Cooker Brussels Sprouts

Print recipe
Ingredients
2lb Brussels sprouts (cut in half or quarters depending on size)
2 Medium shallots (sliced thin)
1/4 cup soy sauce
1/4 cup Sherry
1/4 cup brown sugar
2 teaspoons crushed red pepper (optional)
1 tablespoon cornstarch
1 tablespoon cold water
2-3 cloves garlic (sliced)